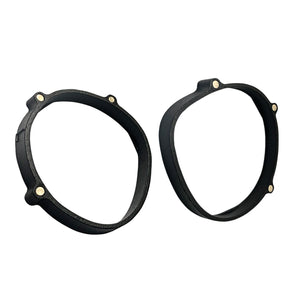 Supported Payment Methods
The magnetic bases of VR WAVE's Quest 2 lenses. Compatible for Oculus Quest 2 only.
There will be 3 pairs of quest 2 magnetic bases of left side and right side in the package. Lenses are NOT included in the package. 
Magnetic base
Very fast delivery and great to have back up thanks again ..
This is awesome! Thank you for sharing your experience with VR Wave. We hope you recommend us to your friends and families who need VR Prescription Lenses.
Do not do buissness with this company
They refuse to correct any mistakes made
Hi Tom,
We are sorry if you have an unfortunate experience. We want to learn more of what happened and to rectify the issue you are facing. Please email us at support@vr-wave.store.
Best,
VR WAVE
Not so much
Goes on and stays on fine but extremely blurry, have used once for only 15 minutes , could see better without my glasses than with the vr lenses
Hi Steve,
We appreciate your feedback, and we are sorry for what happened to your order. Kindly email our team at support@vr-wave.store, so we can assist you on this right away.
Best,
VR WAVE
Great Product
I'm completely satfied about this lenses. they're confy and fit perfecly in my Meta Quest 2.
So glad you love your VR WAVE Prescription Lenses. Feedback from customers like you made this possible. Thanks for sharing your review.
Oculus Quest
These were a gift for my nephew that he received for Christmas. He has an issue keeping the lenses in place when he puts them in the headset. Is there anything that can fix this?
Hi Lori,
We apologize for the inconvenience caused. Please do email us at support@vr-wave.store, so we can assist you further, so we can assist you further.
Thanks,
VR WAVE